One of the most famous treks in the world takes you deep into the heart of the Nepalese Himalaya. You'll trek four to five hours a day surrounded by many of the world's highest and most beautiful mountains. Along the way there's a chance to soak up local food and culture and you'll sleep in traditional, warm and friendly tea houses run by Sherpa families.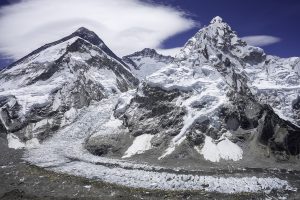 We offer two variations of this classic trek, see also Everest 3 Peaks 3 Passes. Both treks take you all the way to Base Camp itself, which sprawls out below the dramatic tumbling Khumbu Icefall, and include climbing to the famous Everest viewing point of Kala Pattar (5,550m). As well as Everest, you'll meet its impressive neighbours: Lhotse, Nuptse and Ama Dablam.
Experience Required
The Everest Base Camp Trek is suitable for keen walkers/trekkers who are able to walk for 4 - 5 hours in a day, with a light rucksack.
Equipment
As well as a detailed equipment list that will be sent to you upon booking we now offer an online trek shop.
Outline Itinerary
Day 1: Fly to Geneva.
Transfer to Chamonix. Overnight hotel.
Day 2: Acclimatisation climb from the valley.
Overnight hotel.
Day 3: Ascend to mountain hut - Torino Hut (3,375m).
Refresh ropework and ascent of Aiguille Marbrees (3,535m). Overnight hut.
Day 4: Ascent of the Aiguille d'Entreves (3,604m), then descend to valley.
Lunch/shower, then transfer to Geneva Airport and fly to UK. Overnight hotel.
Day 5: Fly to Bali.
Day 6: Arrive Bali.
Day 7: Gear check and rest day in Bali.
Day 8: Fly to Timika.
Day 9: Helicopter flight to Carstensz Pyramid base camp (4,050m).
Day 10: Rest day/acclimatisation in Base Camp.
Day 11: Climb Carstensz Pyramid.
The climb follows an intricate scrambling and rock climbing route up the North Face, utilising fixed ropes to safeguard you. Once you hit the ridge, three notches must be crossed, the first of which has an iron cable suspension 'bridge' across it. The views from the summit across the jungle of West Papua are quite spectacular. Descent is by the same route and involves abseiling. Summit day from base camp to base camp is typically a 14-hour round trip.
Day 12: Helicopter flight to Timika.
Day 13: Fly to Bali.
Day 14 - 15: Spare days.
In case of delays.
Day 16: Fly home.
PLEASE NOTE: Every effort will be made to keep to the above itinerary, but as this is Adventure Travel in a remote mountain region, we cannot guarantee it. Weather conditions, road conditions, vehicle breakdowns and the health of climbers can all contribute to changes. The expedition leader and our local agent will try to ensure that the trip runs according to plan, but an easy going nature will be an asset!.
Acclimatisation
Approximate altitude profile of Carstensz Pyramid:
Date :  15 January 2021
Price : US$ 10.000,00
Meeting Point :
Ngurah Rai Airport, Bali, Indonesia


Date :  15 February 2021
Price : US$ 10.000,00
Meeting Point :
Ngurah Rai Airport, Bali, Indonesia